Manufacturing contracts
- Supportive industry-leading manufacturing ability -
Working with group EMS companies, nms further improves manufacturing ability. Through the utilization of our networks in Japan and abroad, we can offer manufacturing contracts that suit customers' requirements including for production efficiency and planning.
Created manufacturing contract business before other companies in the industry
Since nms was founded, it has been attempting to hand down traditional Japanese "manufacturing culture" with a high level of attention paid to even the finest details. Creating manufacturing contracts before other companies in the industry, we have been improving it in the best way we can.
High level contracting ability allowing collaboration with EMS companies in the nms group
Our work contracts differ from those offered by other dispatch agencies because we work with group EMS companies that regularly manufacture a range of electronic equipment.We offer high quality services by utilizing know-how that has been amassed through the carrying out of actual manufacturing processes related to the manufacturing contract business within the group.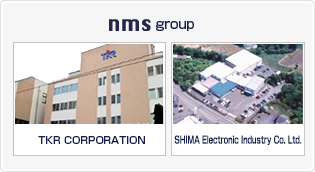 point.

1

We have an outstanding level of intelligibility and proficiency in production management and quality control.



point.

2

We can offer ideas to improve production efficiency.



point.

3

We can construct highly efficiency lines, including automatic inspection devices.
Shift from manufacturing that depends on hiring temporary workers to a manufacturing framework that incorporates "work contracts". We also offer ideas to change plans.
The most suitable plan changes in association with customer's strategies and objectives.nms offers an efficient manufacturing framework that suits customers' plans and challenges.Smooth migration from a dispatching framework to a work contract framework is also possible.

Offer the most suitable plan for work contracts through "Process Analysis Service"
This is a service where we provide consultations or reply to questions regarding shifting to a work contract system.We conduct interviews to learn about your challenges, solutions, time schedules, and ways to handle government-related issues when shifting to work contracts at customers' sites, and generate reports. We offer a concrete method to shift to the work contract system.